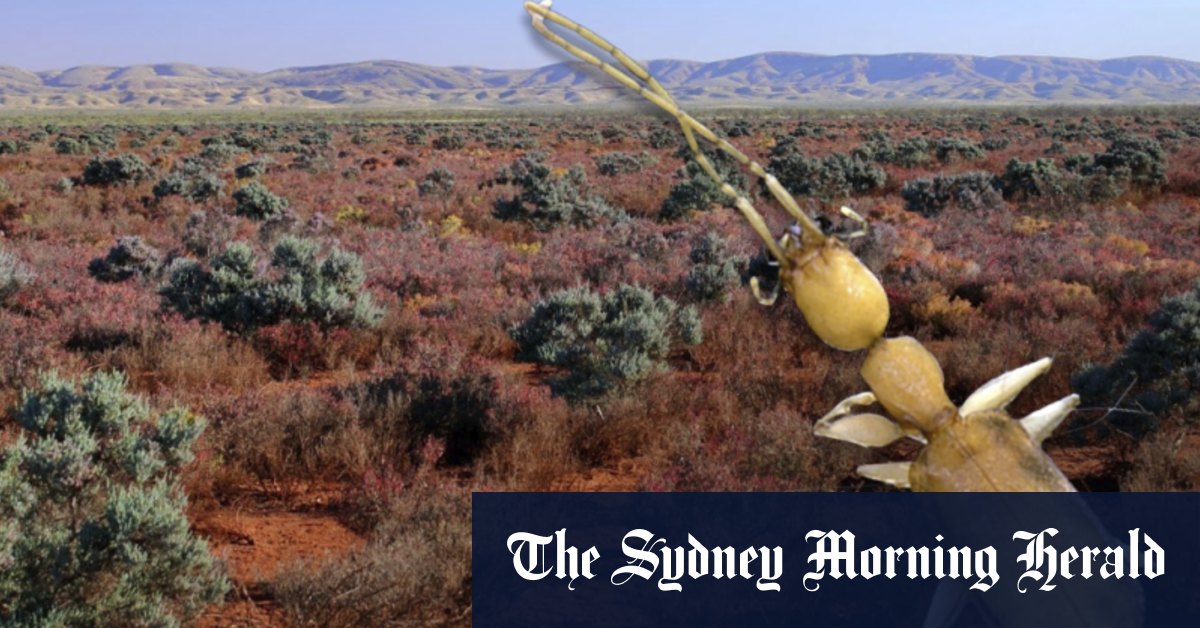 Australian miners throw money at 'mini-monsters' causing severe headaches
"I call them mini-monsters, these are the craziest things," Dr. Gibson said.
"At the WA Museum they have 3D models of them and it's amazing to see them in that form because it gives you some perspective.
"You put them under a microscope and you see how they evolved those appendages to help them move around in the dark environment in these tiny spaces… it's analogous to deep sea creatures that lose their pigmentation, are semi-transparent. and have these shaped bodies that deal with these strange environments.
Small amphipods cause big delays in environmental approvals and make those approvals subject to lengthy appeals.
The most high-profile example is the Yeelirrie uranium mine near the small town of Wiluna in the mid-west on the edge of the Western Desert, for which Cameco has gained controversial approval despite advice from the EPA. that it was likely to cause the extinction of a species of stygofauna.
The tiny animals could also prove a thorn in the side of companies exploring the Beetaloo Basin in the Northern Territory, one of the country's five major gas basins, research already showing they are prevalent in groundwater. .
The WA Biodiversity Science Institute has been tasked with filling some of the gaps, including recognizing the limitations of different species, learning more about their ecosystem functions and their resilience to change.
After securing a mix of funding, including from the Washington State Department of Water and Environmental Regulation and large miners, the institute has assembled a team of seasoned researchers and a list of quick results. to be added to the existing data corpus.
The recently released interim report shows the huge industry costs associated with mini-monsters: delays on a large project can cost up to $ 24 million per year, surveying and surveillance can cost $ 648,000 per year , and a miner can potentially save $ 22 million per year if exclusion zones around species can be reduced.
Better knowledge of the real impacts on animals could also help with this most invaluable asset, "social license".
Mining companies specifically need more information on pseudoscorpions, which are frequently found during sampling, and the report details 19 additional species of "pseudoscorpions" – including 17 new ones – identified by a researcher based at the WA Museum, which attributes codes to them, the precursor of the formal description of species.
Another University of Adelaide sub-project detected the Pilbara Blind Cave Eel in the region's Bungaroo Creek from DNA they released into the water.
While most underground animals are invertebrates, a few vertebrates are known to date: a reptile, a blind snake, and three fish, including the eel.
Given the difficulty of capturing the creatures, being able to take water samples for their DNA represents a huge improvement in efficiency for the investigations and monitoring companies are needed.
Scientists are creating a DNA "barcode" reference library for this case study site, which will serve as the basis for a future Pilbara-wide reference library.
Another part of the project is to collect historical data from surveys conducted by companies over the past decades so that they can be used and connected rather than disappearing without leaving a trace, perhaps to be unnecessarily duplicated. in the future.
This work may at some point connect with the new Biodiversity Surveys Index for DWER Assessments, an unprecedented and ambitious project to consolidate a wealth of scientific knowledge in Western Australia and make it accessible to the public.
WA Biodiversity Science Institute CEO Owen Nevin said the project is enabling conservation for its own good while facilitating economic growth through mining, creating certainty for the wider community and strengthening WA's reputation for its world-class expertise in underground wildlife.
Loading
Professor Nevin called it a great example of how the institute brought together stakeholders to identify complex issues and enable research collaboration on topics that specifically address real issues.
"The program continues to generate strong support from industry, government and others, with scientific expertise in biodiversity coming from multiple disciplines," he said.
"We invite new partners to engage in cutting-edge research that will yield concrete results. "