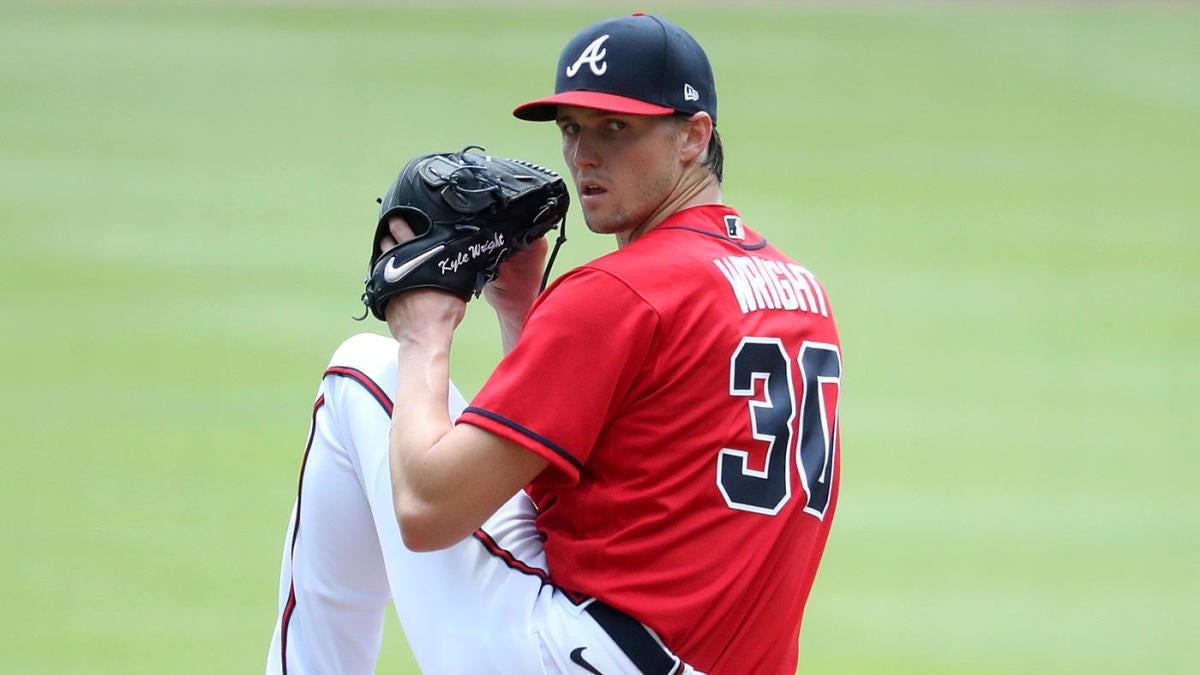 Fantasy Baseball Today: Waiver Yarn Batters and Pitchers, New Save Option, and More Starting on Opening Weekend
Happy Monday, fellow Fantasy Baseballers! Opening day was fun despite the postponement of a few games, but opening weekend was even better. My Mets got off to a good start, but against a team not expected to compete in 2022, but we'll get the small wins when we can get them after the Jacob deGrom news (sorry for even bringing it back). On a personal note, I have to say that I loved everything I saw of my NL Rookie of the Year pick Seiya Suzuki, from his confidence against Corbin Burnes in Game 1 to his deep outburst over the weekend. end.
With Week 1 in the books, it's time to turn the page to Week 2 by looking at which players are hot and cold, which hitters and pitchers to target on your waiver wire, key injuries to note, a new source potential downtime and more. . We'll get to all that and more below.
And of course, as always, you can tune in to make sure you get the latest episodes of Fantasy Baseball Today as soon as they drop on Apple and Spotify.
My #1 Waiver Yarn Launcher Target
Kyle Wright, PS, Braves
Few people (including us) pitched Wright as a potential sleeper pick in all but the deepest leagues, but he certainly looked like an attractive 2022 option for his debut. Wright posted six shutout innings in his debut and allowed just two hits and a walk while striking out six. He had a healthy 12 strikes on just 76 pitches and saw his speed increase on his lead (1.2 MPH) and curveball (3 MPH).
Wright also tweaked his pitch mix. After using the curveball just 14% of the time in 2021, he used it 41% of the time in his debut. He's only 27% listed and is drawing the Padres this week. So how much FAAB should you use to bid on him? Well, for reference, Frank offered $143 in 12-team All Wars and $122 in the 15-team Main Event.
Other Waiver Wire Pitch Targets
Merrill Kelly, PS, Diamondbacks: I understand. No one is rushing to pick up Arizona's starters, but Kelly looked great on his debut with four shutout innings and seven strikeouts (12 slugging on just 75 pitches). The talk of the spring was Kelly's change, and seven of those swing strikes were generated by that pitch — his usage and speed are up on the change. Kelly is drawing the Mets this week and is currently 43% listed in CBS Leagues.
Kyle Gibson, PS, Phillies: Gibson was one of the most surprisingly dominant starters of opening weekend after going one shutout in seven innings with 10 strikeouts, 16 swing strikes on 82 pitches and just two combined hits and walks allowed ( no steps). His use of the box cutter is on the rise – and so far so good. He's listed at 60% and tied against the Marlins this week.
Zach Plesac, SP, Goalies: It would be like Plesac bouncing back just when (almost) everyone had finally jumped off the bandwagon. But Plesace looked good in his debut, going 5 2/3 shutouts with just three hits allowed. He recorded just three strikeouts and eight swing strikes on 70 pitches — and his fastball speed was down — but the results were there. Plesac is 83% lined up and gets the Giants this week.
Brad Keller, PS, Royals: Keller had buzz in the spring and went one shutout in six innings in his debut with five strikeouts on 69 pitches. The use of change was on the rise. He's only listed at 16%-plus of a deep sleep for Week 2 despite the Tigers' presence.
My choice of sleeper — MacKenzie Gore, SP, Padres: The steady drumbeat has been building for Gore after a dominant spring and a very strong debut in the minors this season. It's a bit of speculation on my part, but with Blake Snell likely heading for a stint in IL, getting Gore back now could pay off big in the long run if he had the chance. Always think upside with these backbench lunges.
Please check the subscribe box to confirm that you wish to subscribe.
Thank you for your registration!

Keep an eye on your inbox.

Sorry!

An error occurred while processing your subscription.

My #1 waiver wire hitting target
Andrew Vaughn, 1G/OF, White Sox
Was I a year too early for Vaughn, who was one of my most registered players in 2021? It starts to look like that at first. Vaughn bragged about Pete Alonso's potential but never really started as a rookie last season. So far in 2022, it's a whole different story. More importantly, Vaughn has already started three games (playing time was an issue last season) and hit two home runs (one left-handed, one right-handed). He's only listed at 49% (six home games this week with two left-handers on the schedule) and offers a good upside game at the start of the waiver period.
Other Waiver Sons Hitting Targets
Steven Kwan, OF, Goalkeepers: Kwan joined an elite crew in going 5-for-5 on Sunday and he's now had a hit on eight of his first 10 at bats to go along with zero strikeouts. He's only listed at 21%, but that's about to change.

Connor Joe, OF, Rockies: One of my favorite late season targets of the offseason is playing in Colorado and already producing with a home run on Saturday followed by a stolen base on Sunday. A few other reasons to be excited about Joe – he played in all three games over the weekend and even led Sunday's game against Julio Urias. It is listed at 32%.

Astros, SS, Jeremy Pena: After a hectic spring, Pena went 6 for 16 with an opening weekend at home. He is registered at 70%.
A new backup source?
Jake Diekman, PR, Red Sox
Matt Barnes (fullback) was unavailable this opening weekend and a move to IL is possible for the Red Sox save leader last year, and it's possible Diekman could be there to take over. Diekman halted the Yankees for one stoppage Sunday and protected a one-point lead. What excites me the most about his potential moving forward is how strong he looked doing it. He asked Aaron Judge to strike out on 11 pitches before retiring Giancarlo Stanton and Joey Gallo also on strikeouts.
who else is hot
Sean Manaea, SP, Padres: The obvious mid-to-late pitching target after his trade to a much better roster in San Diego got things off to a good start in his new home with 7 no-hitter innings.
Logan Gilbert, PS, twins: I jumped on the bandwagon after hearing about Gilbert working with Jacob deGrom this offseason and the top prospect looked awesome on his debut. He struck out seven in five innings with 14 swing strikes. His slider was up 3 MPH and his curveball and change were both up 5 MPH from last season. Boo!
Carlos Carrasco, PS, Mets: Scott White has been pushing for us not to overlook Carrasco this offseason after an injury essentially prevented him from fully extending his arm in his Mets debut last year, and the veteran has been brilliant against the Nationals on Sunday. He went 5 2/3 allowing only one earned run, two hits and no walks.
Hunter Greene, SP, Reds: The Reds' top prospect averaged 99.7 mph on his fastball. It's not a typo. He also held his own against the Braves with seven strikeouts and 14 swing strikes. He is registered at 79%. 79% enrolled; start LAD this week?
Alex Bregman, 3B, Astros: Bounce season is here for those of you wise enough to buy the recency bias discount! It's either that or we react too soon! Bregman hit two homers this weekend.
Wander Franco, 3B/SS, Rays: The phenom had two three-hitter games this weekend and also stole a base on Sunday. An addition of speed would be a welcome sight to his batting profile.
Luis Robert, OF, White Sox: If anyone is going to be this year's Vlad, I said it would be Robert. He hasn't disappointed so far with five hits and two interceptions this weekend.
Byron Buxton, OF, twins: Chris Towers favorite Byron Buxton is healthy and tearing up baseball again. He had a brace on Sunday and now leads the league with three home runs.
More news and notes
White Sox PS Lucas Giolito left his departure on Friday with low abdominal tension. He should land on the IL and miss two starts.
Padres SP Blake Snell was scratched from Sunday's start with a tightness in the left adductor and likely heading to IL.
SP Rays Ryan Yabrough will be placed on the IL with a groin injury of his own
SS dishes Francois Lindor was hit in the face with a pitch Friday. X-rays were negative and he seems fine. He hit a home run and stole a base on Sunday.
White Sox DE AJ Pollock suffered a sprained hamstring on Saturday and was absent from the lineup on Sunday. Pollock said he thought it was just a short-term injury, but the hamstring was tricky.
SS padres JC Abrams started two games against RHP and sat both games against LHP.
Red Sox PR Matt Barnes was unavailable this weekend due to back stiffness.
SP Rangers Jon Gray was placed on the IL Saturday with a blister.
Giants called OF outfield prospect Heliot Ramos on Sunday. He hit sixth and went 2-3 with a run scored and is just 12% down.
DE Cubs Ian Happ left Saturday's game after being hit by a throw in the knee. He was not there on Sunday.
Pirates 3B Ke'Bryan Hayes was back in the lineup Saturday and Sunday after leaving Opening Day with a thumb injury. He had multiple hits on both days.
Reds PR Lucas Sims will begin a rehabilitation mission this week. He could finally settle in as the best back-up option for the Reds and deserves to be tucked away in deeper leagues.
DE Guardians Myles Straw signed a five-year, $25 million extension with the Cleveland Guardians.
Prospect of launching pirates Roansy Contreras was recalled on Friday. He is expected to come out of the bullpen as he stretches. It is listed at 14%.
Programming Notes
DE Angels Joe Adell started only two of the Angels' four games (once against a left-hander and once against a right-hander). He sat against Justin Verlander and Jake Odorizzi. Angels skipper Joe Maddon explained that prior to the injury, Taylor Ward was expected to be the team's starting right fielder with Brandon Marsh and Jo Adell lining up in left field.
DE nationals Lane Thomas only started two of the National's four games. All were against the RHP.
Each of the Gleyber Torres, DJ LeMahieu and Aaron Hicks once sat for the Yankees.
Marlins 2B Jazz Chisholm finished eighth and ninth in his two starts this weekend. He didn't play against a tough southpaw in Carlos Rodon on Saturday. His career numbers against righties and lefties are nearly identical.