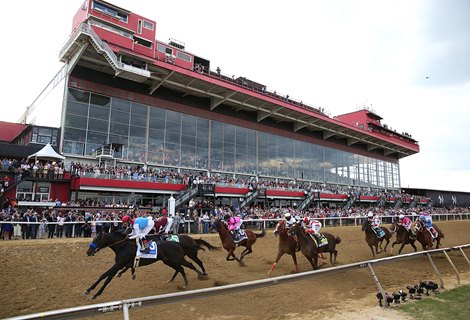 In Pimlico, Laurel, redevelopment is still a year away
Visitors who were lucky enough to attend the 2021 Preakness Stakes (G1) will not find any surprising changes to Pimlico Racecourse when they arrive for the May 21 edition of the second Triple Crown Jewel.
There's a fresh coat of white paint on the front of the building and new high-end hospitality areas in the infield. A much larger crowd will be in attendance for the 147th Preakness after attendance was limited to 10,000 a year ago and only riders were allowed at its competition in October 2020. Infield Fest will return on Saturday with musical performances from Marshmello, The Chainsmokers, DJ Frank Walker and rapper Moneybagg Yo, though they brought in someone to sing "Heat Wave" with Preakness Day temps expected to be in the mid-90s. Megan Thee Stallion, Lauryn Hill and Toni Braxton will headline Preakness Live, which will feature live performances, food and an art garden.
It should be a festive, albeit sultry, weekend.
Still, if anyone is looking for concrete signs of Pimlico's redevelopment – and laurel park moreover, they will have to wait, like Brooklyn Dodgers fans of long ago, until next year.
"We hope to see shovels in the ground in Pimlico after the Preakness of 2023," said Bill Cole, chief negotiator for the city of Baltimore in the development project and former head of the city's Economic Development Agency. "We have about a year of design and engineering ahead of us and there's a lot of utility work to do."
Register for BloodHorse Daily
It was in 2019 that the City of Baltimore and the Stronach Group first announced a $375 million redevelopment deal for Pimlico and Laurel Park, which included the Stronach Group transferring ownership of the facility. Pimlico, now 152, to Baltimore City.
A year later, the Racing and Community Development Act of 2020 was passed by the Maryland Legislature, paving the way for the Maryland Stadium Authority's involvement and start of the project.
But since then various issues, some related to the pandemic, others to rising costs and supply chain issues, have delayed the start of construction work.
Craig Fravel
"We are a little behind the start of full-scale design work, partly due to COVID and factors beyond everyone's control," said Craig Fravel, CEO of 1/ST Racing. "Everything costs a lot more these days than it did three years ago when this project started, so I think we're all looking forward to the design process working and finding solutions to the cost issues."
Still, the biggest hurdle has been a thorny tax issue for The Stronach Group, parent group of 1/ST Racing and the Maryland Jockey Club which owns and operates Pimlico and Laurel Park. Since it will continue to own Laurel Park, the public funds it will receive for the construction project will generate a huge tax hit for the company.
"There was a provision in the 2017 Tax Act Amendments which basically said that if there were to be state funded improvements on private property, that eliminated tax relief with respect to property tax. capital gains on those improvements," Fravel said. "Since it's a pretty big tax in a tough environment, you have to understand it."
According to Cole, it could cost TSG "tens of millions" of dollars, stalling the development of Laurel Park and, by association, the work of Pimlico as well.
"There is an imputed tax liability based on private ownership for sports facilities which would have a rather dramatic impact on the Stronach Group in the tens of millions of dollars. We had to work on it and the city even hired a tax consultant to help find creative solutions. That definitely slowed us down because the two tracks have to be done together," Cole said. "If you close Pimlico to daily training, you need to improve facilities elsewhere to maintain an active thoroughbred population. COVID has played a role, not a huge one, but the lion's share of the delay is trying to fix the problem. tax at Laurel Park."
To that end, the legislature recently ordered the Maryland Stadium Authority to move forward with Pimlico's work and gave the parties until September to work with the Maryland Economic Development Corporation to find a solution to the dilemma. tax.
"Bond rates were going up and the longer we waited, the less we had to spend. So the legislature said to do the design and the engineering and get the shovels ready for Pimlico, because there's nothing complicated about that. topic, as we work through Laurel's issues," Cole said.
As for solutions at Laurel, some creativity will be required.
"It's a law and there's no getting around the tax issue," Cole said. "So over the last year we have been looking for alternative solutions."
The hope is that the project will be completed by 2026 while continuing to run the Preakness in Pimlico uninterrupted.
"There is a provision in the negotiated agreement with the city and the Stronach Group that we will never hold the Preakness anywhere else," Cole said. "In an ideal world, I think construction can be done without missing a Preakness. The grass track could be a problem, but the dirt road should be ready and the intention is to run the Preakness in Pimlico all the way through. long in the redevelopment process, although we will be using temporary facilities for a few years. We have factored this into the budget for when they will rebuild the clubhouse, which will take over a year to build. You may need to use more extravagant tents over these years. This kind of facilities are getting better and better all the time."
For Fravel, the delays have been disappointing but understandable.
"It's been a process. It feels easier in the conceptual stages than when you get into the nitty-gritty and complexity of doing two big rooms at the same time using the same design team," he said. . "Finding a way to continue with the type of training that riders are comfortable with while replacing track surfaces at Pimlico and Laurel is a very complicated business. Every project is frustrating, which is why people l call it work rather than playtime. It had its challenges, but in general people worked well together."
While working toward a brighter future for Maryland racing, 1/ST Racing and the MJC have also been absorbed in the demands of daily racing throughout the year.
Pimlico Racecourse
Laurel Park, with 147 dates across four meetings in 2022, is the main venue, but it has encountered issues with its main track. Although the situation has improved, nine dates have been canceled so far this year as well as most of one other card.
"We had a few hiccups early in the year at Laurel," Fravel said. "There were some transition issues with the track we put in place. It was unfortunate, but I think we have a really positive relationship with the Maryland Thoroughbred Horsemen's Association as well as the Maryland Racing Commission. communication is really good.lots of people for the work that needed to be done and we got things sorted out.
"I think he's been on an upward trajectory since then. Overall it's been positive for Maryland racing with good purse generation."
Coach Tim Keefe, president of the MTHA, said he had recently received positive reports on the Laurel surface.
"From everything I hear the surfaces are good and things are going well," he said. "They put several tons of different material on it and you just can't snap your fingers and do a one-and-eighth mile circuit. It's a massive undertaking."
The problems at Laurel stemmed from a new cushion that was ill-equipped to deal with all the different weather conditions year-round in Maryland.
"(Interim President and CEO of MJC) Mike Rogers has really mastered these issues at Laurel, working with the experts. It was more of a problem working with the material that was delivered instead of what was ordered," Fravel said. "It shouldn't have been installed in the first place and it didn't adapt well to freezing conditions and humidity. So we got what we needed and things have been going well since then. I think the guys put in some heroic effort to get it right."
An added complication during repairs was the need to keep Laurel open for training.
"We operate 365 days a year, so there is no downtime," Keefe said. "And it's not like we have a big barn in Pimlico. People ship there and then go back to Laurel. It's hard to do serious maintenance when the place never closes."
As the MJC tries to put the surface issues at Pimlico in the rearview mirror, the immediate and long-term future looks bright. After two years blighted by the pandemic, Pimlico will be animated again on May 20 for Black-Eyed Susan Day and then stalled the following day for Preakness.
"We're very excited about this weekend," Fravel said.
Down the road, instead of the old crumbling Old Hilltop facility with its closed grandstand, there will be gleaming new facilities at Pimlico and Laurel, each with a sportsbook to provide alternative revenue.
The future is indeed bright. It's just a matter of when there will finally be very visible signs of it.