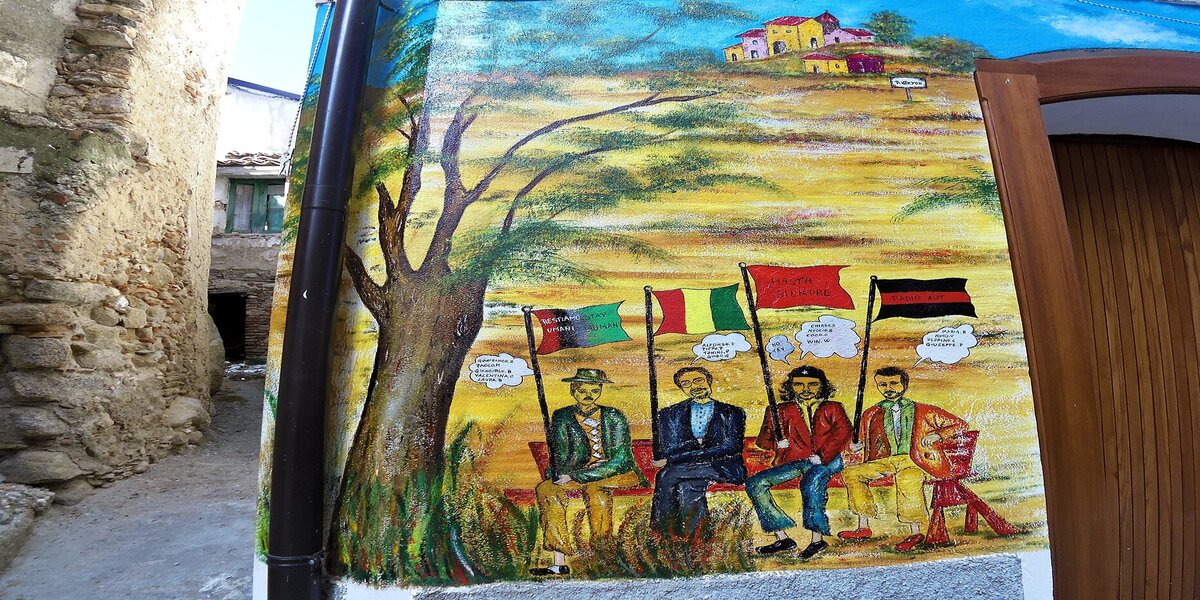 Solidarity with Domenico Lucano | Red bell pepper
This week, Domenico 'Mimmo' Lucano, former mayor of Riace, was sentenced to an extremely harsh 13-year prison sentence, following allegations of aiding illegal immigration. Mr Lucano, who denies the accusation, maintains that everything he has done with the refugees was aimed at rebuilding his hometown and offering real solidarity in helping to improve the lives of migrants.
Integration, not otherness
Mimmo Lucano's model of resettlement to support migrants has become widely known and praised around the world, but has remained divisive in Italy. Like many of these places in high income countries, Riace, a small town in southern Italy, was in danger of becoming a ghost town as generations of young people set out to seek more opportunity and excitement elsewhere. Then, in 1998, with the arrival of a group of Kurdish refugees whose boat ended up on a nearby beach, its future began to change. Instead of sending them to pack their bags, the city, under the leadership of Mr Lucano, chose to welcome the migrants and they were allowed to settle in vacant properties.
In 2006, when he was first elected mayor, Lucano set up government-funded programs to retrain newly arrived residents of Riace. By providing migrants with homes in the heart of the community, the program has succeeded in avoiding what most resettlement projects end up fostering: hostility, otherness and the ghettoization of migrant communities. At the same time, economic integration was seen as the key to the long-term success of his approach. By setting up various workshops and craft spaces allowing residents and their new neighbors to exchange skills and produce goods together, jobs have been created for the benefit of both groups.
Lucano's model was more widely recognized during the so-called refugee crisis in Europe in 2016. At the time, around 450 migrants lived in Riace and made up a quarter of the city's population. Lucano was appointed among the 50 largest world leaders by Fortune magazine and the training and employment programs he helped set up in the city offered a chance for a decent life not only to newly arrived residents, but also to many original residents. At a time when so many communities closed their doors to people fleeing hardship and oppression, it was Lucano's vision for a truly welcoming and inclusive society that made Riace a success.
Riace and Lucano attacked
Beneath the surface, however, the issue of total reliance on government funding for the success of local programs could only worsen. Riace had become a visible symbol of solidarity in practice, but this was not seen as positive by everyone. With the dependence of the Riace model on public funding of its programs, the migrant support project became the target of attacks from the authorities. In 2018, when Matteo Salvini became Italy's deputy prime minister and interior minister, he targeted Lucano in a series of offensive statements. Shortly before his initial arrest in 2018, Lucano was shot at at a local restaurant and his dogs were poisoned.
Sustained pressure on Lucano continued, with allegations ranging from organizing marriages of convenience to embezzlement and embezzlement of public funds. According to his brother, the story of the marriage refers to a single instance where he helped a Nigerian woman who was trying to regularize her status but was forced into prostitution in the meantime. And he awarded municipal contracts to cooperatives run by migrants with the aim of providing them with decent jobs in Italy's poorest region.
In 2018, after the first charges, Lucano said: "I never won anything and I took no money from anyone. Public money in Riace has only been used for migrant-related projects and to alleviate suffering, for employment opportunities, integration and to give asylum seekers a better life. Following his legal troubles, Lucano lost his post as mayor and the city is now under a far-right regime League administration which has Already seen the Riace model collapse. In 2020, only around 40 migrant households remained in the city, fearing for their opportunities and their safety if they remained without Lucano's support.
Although his legal defense denies that the trial and conviction are politically motivated, in a climate of growing far-right influence and right-wing rhetoric at all levels of public discourse, it is difficult to escape the conclusion that the government's hostility towards Lucano played a role.
Solidarity today and tomorrow
Meanwhile, search and rescue groups and migrant rights organizations have all expressed solidarity with Lucano and this outrageous decision. Sea Watch Italy tweeted:
"The former mayor of Riace gave life and a future to his city through hospitality and solidarity. We are alongside Mimmo Lucano and the one who practices solidarity on a daily basis.
This attack on solidarity movements highlights the need for transformation at all levels of governance and for anchoring new economic models in the practice of migrant solidarity. Stagnant local economies and regional depopulation are not issues that we can resolve quickly and will require more than the extraordinary dynamism and energy of exceptional leaders like Mimmo Lucano.
Centuries of imperialist extraction, wars and now climate change are causing and will continue to push people to uproot their families and seek a better life elsewhere. As they risk their lives and head to our shores in Italy, Greece, the UK and beyond, we must work together to learn from each other and celebrate each other's successes, like Riace. We must also stand up for each other, learn the importance of building political power and offer solidarity. This attack on Mimmo Lucano is an attack on all of us who believe in a world without borders.
Alena Ivanova is Campaigner at Global Justice Now.