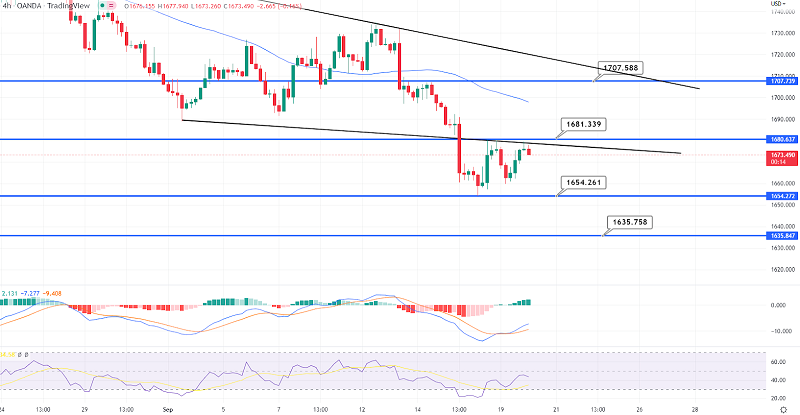 Stable Gold Below $1,680 – Quick Technical Overview
Gold maintained its offered tone throughout the first North American session, and is now trading at around $1,665, slightly above the daily low. A stronger US currency is hurting the dollar-denominated commodity, which has fallen below critical 2021 lows in the $1,670s. This level has offered consistent support on several occasions, and its breakout last week was a bearish indicator for XAU/USD.
Expectations that the Federal Reserve will maintain its aggressive rate hike policy to contain uncomfortably high inflation continue to support the greenback. For example, a drop in near-term inflation expectations for U.S. consumer prices to a one-year low in September prompted investors to reduce their bets on a full Fed rate hike from 100 basis points.
The US Federal Reserve, on the other hand, is expected to register an increase of at least 75 basis points at the end of a two-day monetary policy meeting on Wednesday, which will continue to support the greenback. Consequently, the rise in US Treasury bond rates remains beneficial. This, combined with the potential for a faster rate hike by other major central banks, is driving flows away from the unproductive yellow metal.
XAU/USD
However, as a further decline in equity markets illustrates, the current risk aversion atmosphere is supporting conventional safe havens. This seems to be the only factor supporting gold and limiting its decline, at least for now.
Investors seem hesitant to make bold bets and prefer to sit on the sidelines ahead of a flurry of central bank conferences this week. The Fed is expected to speak on Wednesday, which will have a significant impact on near-term dollar price dynamics. On Thursday, the Bank of Japan (BoJ), the Swiss National Bank (SNB) and the Bank of England (BoE) will follow. This, in turn, should help investors predict the next stage of gold's directional advance.
Gold Technical Outlook
Yesterday, the price of gold traded higher to test the first significant resistance, $1,680. This particular level has a strong potential to push gold prices even lower. Below $1680, gold may continue to trade lower to resume the bearish wave with its next target at $1644, supported by the Stochastic RSI indicator.
On the other hand, it should be noted that breaking through the $1680-$1684 levels will complete the formation of a positive pattern, causing the price to initiate an upside correction that will initially target the $1712 range.
Today's trading range should be between the support at $1,665 and the resistance at $1,690.
Projected Trend Today: Bearish