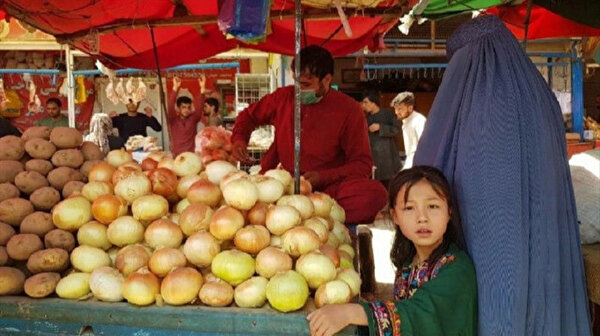 Taliban jirga discuss security and economic situation in Afghanistan
The Taliban convened a traditional Afghan jirga or gathering of former tribals and communities on Tuesday to find a solution to the economic and security situation in the war-torn and cash-strapped country.
The jirga met in the Foreign Ministry building in the capital Kabul, where speakers not only criticized the United States for dividing Afghan society along ethnic lines, but also vowed to restore peace in the country.
More than a hundred members of the assembly listened to the speakers, including Anas Haqqani, a member of the Taliban political bureau in Qatar and brother of the Taliban commander Sirajuddin Haqqani.
In his speech, Arsala Kharoti said that "the time has come to unite, to eliminate differences and to deliver social justice to Afghans".
He cited the political turmoil in Afghanistan in 1978 and the invasion of Afghanistan by the former Soviet Union in subsequent years as examples of the struggles of the Afghan nation over the past 43 years.
According to another speaker, Sheikh Khalid, the United States has divided society for the past 20 years, with a visible rich-poor divide.
Ahmadullah Ahmadzai, Taliban member of the peace committee, told Anadolu news agency that since taking control of Kabul they have organized jirgas with tribal leaders, businessmen and officials from previous governments to find solutions to the country's problems.
The Supreme Leader, Mullah Hibatullah Akhundzada, tasked the top leader of the Haqqani network, Khalilur Rehman Haqqani, to meet people from various backgrounds and ease security and economic tensions in the country.
-Challenges for the Taliban
Tribal elder Ehsanullah Amin Munawar said he attended the jirga to help the Taliban solve difficult issues such as security and the economy and help them through social media. Despite being in Afghanistan unconditionally supporting the Taliban, he offered the new leader the opportunity to use his domestic and international connections to help bring peace to the country.
The Islamic Emirate of Afghanistan is a truly independent country that can improve the country's political system and bring peace and stability.
On the country's struggling economy, he was optimistic, saying that when there is peace, there will be no terrorism and narcotics.
"These are the three requirements that I discussed with the Islamic Emirate of Afghanistan, and they told me they would meet them," he added.
Any country with solid security and no corruption succeeds, which the Taliban will ensure, so if these issues are resolved, it is confident that the international community will help Afghanistan, Munawar argued.
Afghanistan will receive a lot of help from the international community because it is a geopolitically important country.
"Helping Afghanistan will also benefit them," he noted.
The Afghan people have suffered greatly over the past 43 years, with the invasions of the former Soviet Union in 1979 and US forces in 2001, which lasted until their recent withdrawal on August 31.