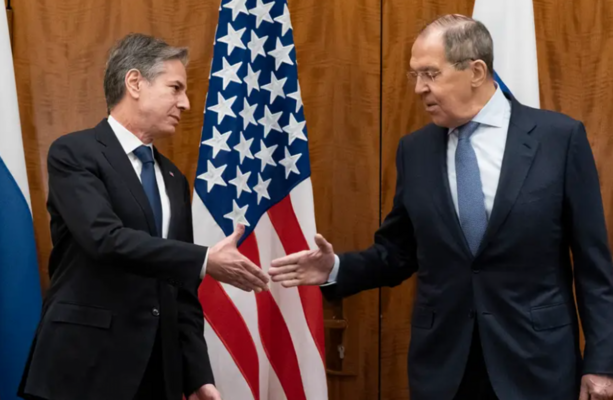 Top US and Russian diplomats discuss Ukraine at 'critical moment'
US Secretary of State Antony Blinken said he asked Russia to prove its intentions by withdrawing troops deployed on Ukraine's borders.
Blinken was speaking following talks with Russian Foreign Minister Sergey Lavrov in Geneva, Switzerland.
Both sides sought to lower the temperature in a heated standoff over Ukraine, even as they said no breakthrough was imminent in the crisis that has raised fears of a possible Russian invasion.
"We have heard Russian officials say they have no intention of invading Ukraine. In fact, Mr. Lavrov repeated it to me today," Blinken told reporters after the meeting.
"If Russia wants to start convincing the world that it has no aggressive intentions towards Ukraine, a very good starting point would be to defuse, bringing back – removing – those forces to the Ukrainian border."
He also said US President Joe Biden was ready to meet his Russian counterpart Vladimir Putin if they could make progress on Ukraine.
"President Biden has met here in Geneva with President Putin, he has spoken to him on the phone or by videoconference several times, and if we conclude (and) the Russians conclude that the best way to resolve things is through a new conversation between them, we are certainly ready to do that," he told reporters.
With an estimated 100,000 Russian troops massed near Ukraine, many fear Moscow is planning an invasion, although Russia denies this.
The United States and its allies are working to present a united front to prevent this or to coordinate a strong response if they cannot.
"We didn't expect any major breakthroughs to happen today, but I think we're now on a clearer path to understanding everyone's positions," Blinken said.
US Secretary of State Antony Blinken and Russian Foreign Minister Sergei Lavrov in Geneva.

Source: AP
Blinken said Lavrov repeated Russia's insistence that it had no intention of invading Ukraine, but he stressed that the United States and its allies were not. convinced.
"We look at what is visible to all, and it is deeds and actions and not words that make all the difference," he said.
Lavrov, meanwhile, called the talks "constructive and helpful" and said the United States had agreed to provide written responses to Russian requests to Ukraine and NATO next week. This could at least delay any impending attack for a few days.
But Lavrov declined to characterize that commitment.
"I can't say whether we're on the right track or not," he told reporters. "We will understand this when we receive the written response from the United States to all of our proposals."
Moscow has demanded that the NATO alliance promise that Ukraine – a former Soviet republic – will never be allowed to join. He also wants the allies to withdraw troops and military equipment from parts of Eastern Europe.
The United States and its NATO allies have flatly rejected those demands and say Russian President Vladimir Putin knows they are not leaving. They said they were open to less dramatic moves.
Blinken said the United States would be open to a meeting between Putin and US President Joe Biden, if it was "useful and productive".
"Quick and severe response"
Washington and its allies have repeatedly promised "tough" consequences such as tough economic sanctions – but not military action – against Russia if an invasion takes place.
Blinken repeated that warning ahead of the talks.
He said the United States and its allies were committed to diplomacy, but also committed "if that proves impossible, and Russia decides to continue aggression against Ukraine, to a united, swift and severe".
But he said he also wanted to take the opportunity to share directly with Mr. Lavrov some "concrete ideas to address some of the concerns you have raised, as well as the deep concerns that many of us have in about Russia's actions".
Ukraine is already in the throes of conflict. Russia seized control of Ukraine's Crimean peninsula in 2014 and backed a separatist insurgency in eastern Ukraine, amid a latent but largely stalemate conflict with Ukrainian forces that has more than 14,000 dead.
Putin has faced limited international consequences for these moves, but the West says another invasion would be different.
A convoy of Russian armored vehicles moves along a road in Crimea.

Source: AP
Before his meeting with Mr. Lavrov, Mr. Blinken met with the Ukrainian president in Kiev and senior British, French and German diplomats in Berlin this week.
In addition to its repeated verbal warnings to Russia, the United States stepped up its sanctions yesterday.
The US Treasury Department has imposed new measures on four Ukrainian officials. Blinken said the four were at the center of a Kremlin effort that began in 2020 to undermine Ukraine's ability to "function independently."
The Russian Foreign Ministry on Friday reiterated its demands that NATO not expand into Ukraine, that no alliance weapons be deployed near Russian borders and that alliance forces withdraw from Central and Eastern Europe.
The US State Department, meanwhile, issued three statements – two on Russian 'disinformation', including on Ukraine, and another titled Taking Action to Expose and Disrupt Russia's Destabilization Campaign in Ukraine .
The documents accused Russia and Putin of trying to reconstitute the former Soviet Union through intimidation and force.
The Russian Foreign Ministry mocked these statements, saying they must have been prepared by an Orwellian Ministry of Truth, and Lavrov caustically dismissed them.
"I hope everyone at the State Department was not working on these documents and some were working on the essence of our proposals and their substance," he said.
The Russian Foreign Ministry also rejected Western claims that Moscow was trying to rebuild the Soviet empire and carve out an area of ​​influence in Eastern Europe, saying it is the West that thinks in categories of areas of influence.
Blinken was careful to stress American unity with its allies against a possible Russian invasion, something that took an apparent hit earlier this week when Biden drew widespread criticism for saying retaliation for Russian aggression in Ukraine would depend on the details and that a "minor incursion" could cause discord among Western allies.
Yesterday, Biden sought to clarify his comments by warning that any movement of Russian troops across the Ukrainian border would constitute an invasion and that Moscow would "pay a heavy price" for such an action.
"I've been absolutely clear with President Putin," Biden said. "He has no misunderstanding: all assembled Russian units are crossing the Ukrainian border, it's an invasion."
Russia denied it was planning an invasion and instead accused the West of plotting "provocations" in Ukraine, citing the delivery of weapons to the country by British military transport planes in recent days.
#Open Journalism
No news, bad news
Support the review
Your contributions will help us continue to deliver the stories that matter to you
Support us now
Liz Truss
British Foreign Secretary Liz Truss will tell Putin he must "restrain and withdraw" from the war in Ukraine or risk being drawn into a protracted conflict like the Soviet invasion of Afghanistan.
In a message to the Russian President, the UK Foreign Secretary will say that the UK and its allies "continue to support Ukraine".
She will urge Putin to engage in "meaningful discussions" on the crisis following the build-up of Russian forces near the border with Ukraine.
His comments come after US President Joe Biden said he believed Putin did not want a full-scale war and warned the Russian leader would pay a "high price" if he launched a military incursion.
Truss predicted that an invasion could drag Russia into a protracted and bloody conflict.
She will use a speech in Australia today to call on Putin to 'stand back and withdraw from Ukraine before he makes a massive strategic mistake'.
She will claim that "the Kremlin has not learned the lessons of history" and that "the invasion will only lead to a terrible quagmire and the loss of human life, as we know from the war and the conflict Soviet-Afghans in Chechnya".
The Soviet war in Afghanistan escalated throughout the 1980s, costing thousands of lives.
🇬🇧🇦🇺 Well done my friend @MarisePayne. We discussed investing in honest and reliable infrastructure in the Indo-Pacific, deepening security ties through AUKUS, and strengthening technological and economic cooperation.

Together we will defend and advance freedom in the region and across the 🌎 pic.twitter.com/WEDdFFONbz

— Liz Truss (@trussliz) January 20, 2022
The Foreign Secretary and British Defense Secretary Ben Wallace used their visit to Australia to strengthen defense and diplomatic relations with Sydney.
Truss will use his speech at the Lowy Institute think tank in Sydney to stress the need for allies such as the UK and Australia to work together to counter the challenge posed by Russia and China on the world stage.
She will say that the "global aggressors" are "emboldened in a way we haven't seen since the Cold War".
"They seek to export dictatorship as a service all over the world.
"That's why regimes like Belarus, North Korea and Myanmar find their closest allies in Moscow and Beijing."
Truss will say that threats to "freedom, democracy and the rule of law" are global challenges, not regional problems and therefore require an international response from the "free world".
"We have to work with partners like Australia, Israel, India, Japan, Indonesia and many more," she will say.
"By forging closer ties with our friends and bringing other countries closer to the orbit of free-market democracies, it will ultimately make us all safer and freer in the years to come.
"It's time for the free world to hold firm."
With reports of © – AFP, 2022.