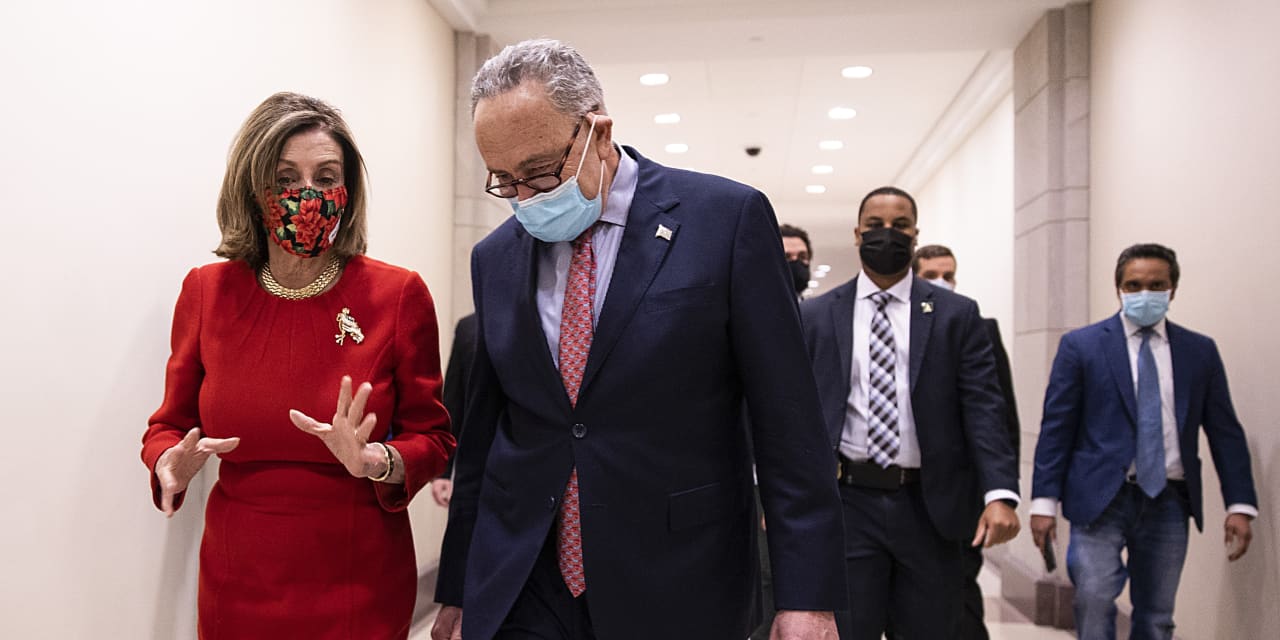 With expected sweep in Georgia Senate races, Democrats have high hopes for what Biden can do
The Democrats' apparent sweep in the Georgia Senate runoff means they can dust off some of the lofty 2021 legislative plans they crafted ahead of the November election, but experts say they should temper their expectations.
Assuming Jon Ossoff's lead over Sen. David Perdue holds, Democrats will gain the upper hand over the 50-50 split Senate once Vice President-elect Kamala Harris takes office on January 20 to elect the votes. in the room.
In the House, Speaker Nancy Pelosi will lead a shrunken Democratic caucus that will have the smallest majority in years.
These factors mean Democrats will have a narrow path to drafting legislation that appeals to a resurgent Liberal wing, leave moderates who suffered the worst losses in the last election calm, and still be substantial.
"What's the problem? And then, depending on the problem, the question is, are you going to lose Democrats," said Jim Manley, former spokesman for Democratic Majority Leader in the Senate, Harry Reid.
Related: Warnock projected to be the winner, while Ossoff clings to slim lead in Georgia's second race
In the near term, the sweep means another round of economic stimulus to offset the effects of the coronavirus is expected to come sooner and be bigger than not. Goldman Sachs analysts said they would expect around $ 600 billion more in stimulus under a Democratic Congress, for example.
Senate Democratic Leader Chuck Schumer said in a statement Wednesday that he expected more COVID-19 help to arrive.
"It sounds like a whole new day," the New York lawmaker said. "For too long much needed aid has been blocked or watered down by a Senate led by Republicans and President Trump. That will change with a Democratic Senate, a Democratic House, and a Democratic President. "
In the long run, given the filibuster and a united Republican front, other priorities, like immigration, climate change and infrastructure, will face a tough climb.
Still, winning the Senate has its advantages – Schumer would set the legislative agenda, hold committee hearings, and exercise oversight of federal agencies.
"There are certainly advantages to having a majority in the Senate – Democrats would chair Senate committees, set the agenda and a Democratic majority leader could help confirm the Biden administration's candidates," wrote Brian Gardner, chief Washington policy strategist for Stifel Nicolaus & Co., in a note.
"However, the difference between a 50-50 Senate and a 51-49 Senate on the ability to pass laws is small."
Republicans could still use filibuster to block major legislation, meaning 60 votes would be needed to move a bill forward and the narrow margin will continually tempt Democratic senators to demand concessions from the leadership in return for their vote.
This narrow margin could also encourage bipartisanship, however. Already, a small bipartisan group of senators, working with a similar group in the House called the Problem Solvers Caucus, have played a major role in shaping the second major coronavirus aid package. He also called on senators to refrain from challenging the Electoral College's results when the votes were presented to Congress.
"The bipartisan group has shown in the lame duck that just by demonstrating what is viable at the 60-vote threshold, they can exert significant leverage," said Liam Donovan, director of the policy resolution group at Bracewell LLP.
"I don't think it's going to be replicable on a regular basis, but if you're Biden, you see this group as your legislative litmus test, and the GOP rump you can possibly work with even if the leader needs to be convinced."
Manley was a little more suspicious.
"These groups, at least in recent years, do not have a good track record. They end up being marginalized, "he said.
A major consequence of a Democratic Senate would be the candidates the Biden administration sends to Capitol Hill for confirmation. Faced with the threat of Democratic filibustering, Senate Republicans under the Trump administration turned to filling the federal judicial ranks with judges they hoped were sympathetic to conservative causes.
"A simple majority allows Biden to move his candidates much faster, easier and with a much larger talent pool to choose from," Donovan said.
Having the Senate would also allow Democrats to pass certain types of legislation by simple majority, using an optional process called budget reconciliation. While reconciliation invoices are filibuster proof, they come with strict subject and budget impact requirements.
Related: Biden could use GOP trick to open door to 'big things' in 2021
While reconciliation can be a powerful tool – especially if Democrats use it twice in a year, like Republicans did in 2017 – narrow margins in both chambers mean leaders will have to thread the needle in. drafting of bills. Repealing some of the 2017 tax cuts would play by the rules and enjoy broad Democratic support, for example, while the Green New Deal would likely have a harder time on both counts.
"It depends on the question, but in a very small Senate I don't think that's a given," Manley said.
Highlighting potential ideological difficulties, Donovan said the reconciliation would allow Democrats to "within process limits move anything Bernie Sanders and Joe Manchin can agree on."